Nome : Dangard
Anno produzione : unknown
Casa produttrice : unknown
Materiali : Plastic
Prodotto nei primi anni 80 per il solo mercato Peruviano, Il Dangard Perù è uno dei Bootleg più rari in circolazione.
Produced in the early 80 years for the Peruvian market, Dangard Peru is one of the rarest in Bootleg circulation.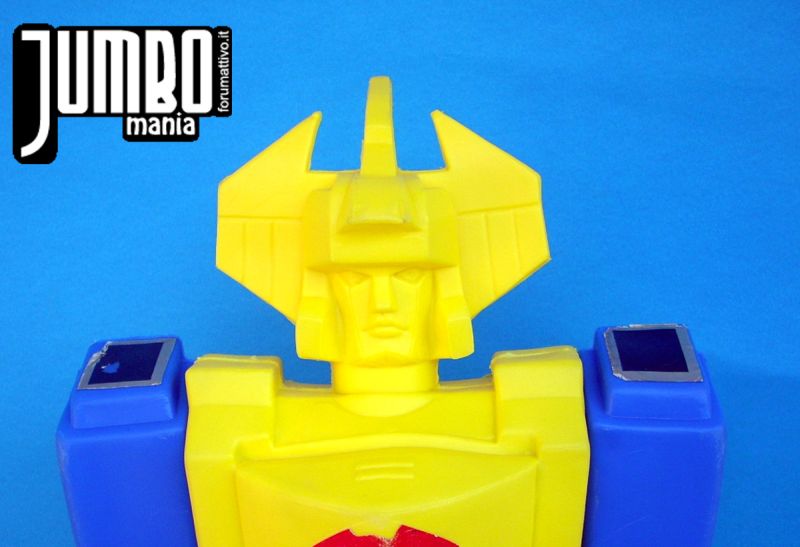 Molti dicono che la sua figura è copiata direttamente dalla stampo Popy, ma io non ne sono molto convinto, infatti il Dangard Popy misura 60 cm in altezza, mentre la versione Perù solamente 55 cm, praticamente ci sono 5 cm di differenza e non è una questione di gambe più o meno lunghe, lo stampo Perù è più piccolo in tutte le sue parti.
Many people say that his figure is copied directly from Popy mold, but I'm not very convinced, Popy measurement the Dangard 60 cm in height, while Peru only 55 cm version, practically there are 5 cm of difference is not a matter of more or less long legs, the mold Peru is smaller in all its parts.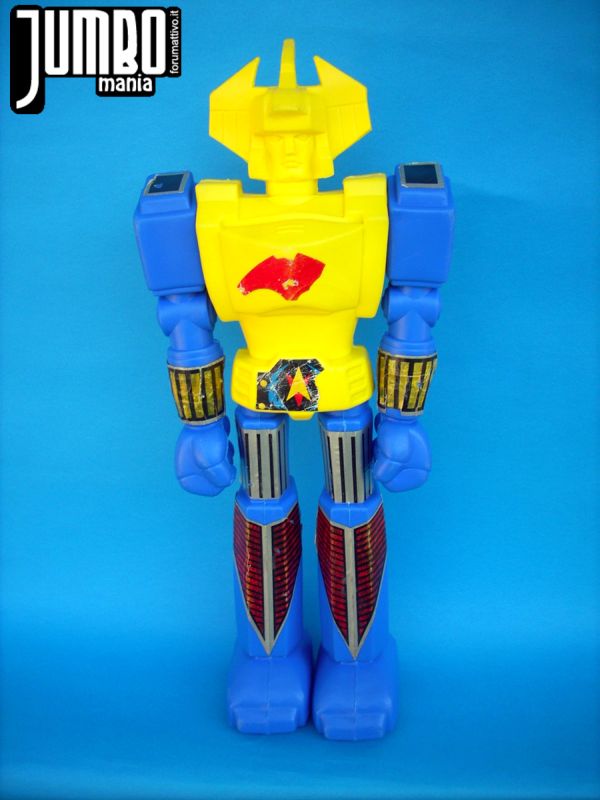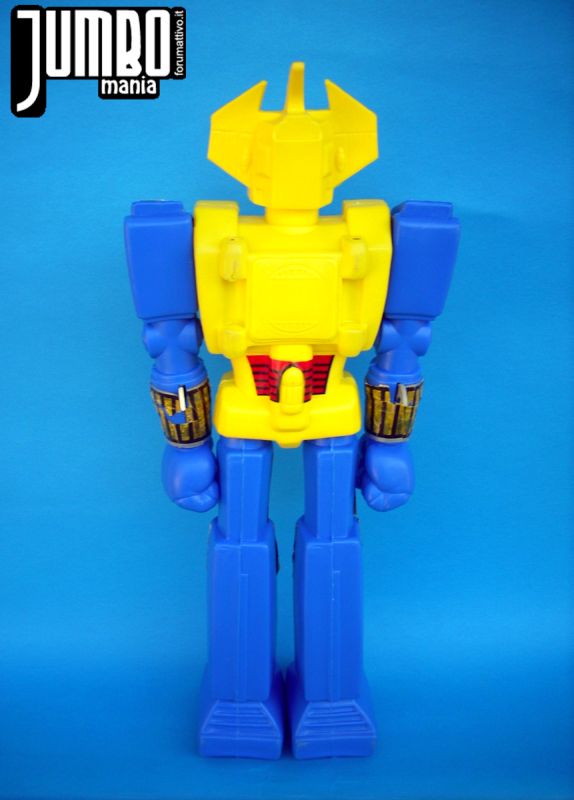 Per far capire bene le differenze ho messo a confronto le due versioni Popy-Perù in una specie di collage puramente illustrativo, mettendo busto e spalle alla stessa altezza.
Si vede chiaramente che il Bootleg è nettamente più stretto.
To understand the differences I have compared the two versions Popy-Peru into a kind of collage for illustrative purposes only, by placing the bust and shoulders at the same height.
You see clearly that the Bootleg is much narrower.
Ma veniamo alla descrizione del jumbo. Le sue plastiche sono molto più leggere ed economiche rispetto al classico ABS usato per i Jumbo Machinder.
Le uniche articolazioni sono per spalle e gambe, mentre la testa rimane fissa.
But we come to the description of jumbo. Its plastics are much lighter than the classic and ABS used for Jumbo Machinder.
The only joints are for shoulders and legs, while the head remains fixed.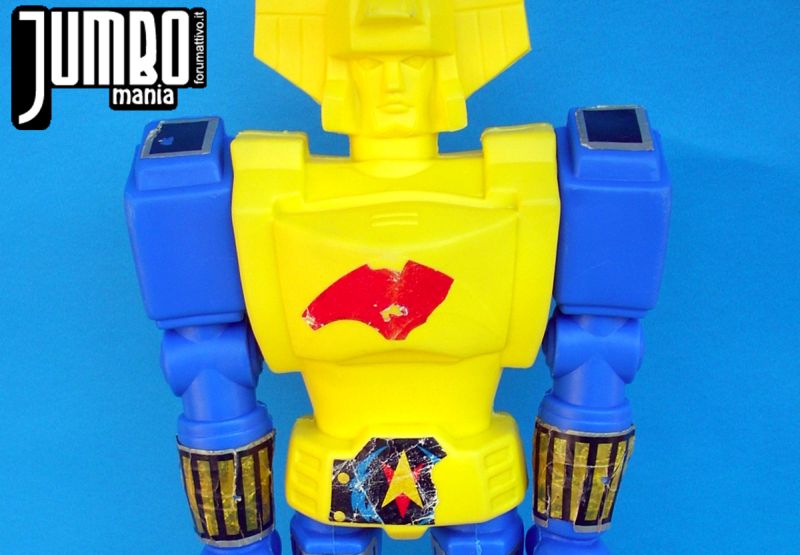 Avendolo visto molte volte in foto, mi domandavo come fosse possibile sparare i pugni se gli adesivi univano le giunture con le braccia … era praticamente impossibile, quindi sono rimasto con il dubbio fino all' acquisto del mio primo Perù.
In pratica all' interno del braccio è posizionato un sistema di sparo a molla molto rudimentale, dalle sembianze di un fucile, che molto probabilmente era preso da un altro giocattolo prodotto dalla medesima azienda. Attraverso il pugno si inseriva un missile a forma di ventosa, che una volta agganciato poteva essere sparato tramite la leva posizionata nel gomito.
Having seen it many times in the picture, I wondered how it was possible to shoot his fists if adhesives joints combined with his arms ... was virtually impossible, so I'm left with the question until the purchase of my first Peru.
In practice within the arm is positioned a spring-loaded firing system very primitive, resembling a gun, which most likely was taken from another toy manufactured by the same company. Through his fist engages a missile shaped like a sucker who once engaged would be fired by the lever placed on the elbow.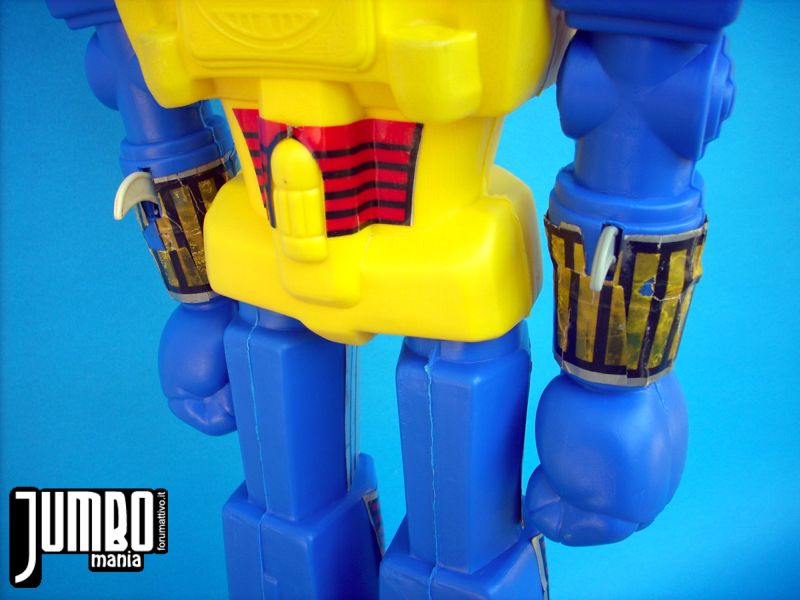 Molti di questi Bootleg hanno le gambe vuote, senza alcun tipo di bilanciatori interni, quindi risultano essere molto leggeri, nel mio caso ho trovato della sabbia molto fine all' interno delle gambe, simile a quella usata per i Jumbo Machinder e devo dire che il Dangard è bello stabile.
Many of these Bootlegs have legs empty, without any kind of internal balancer, then turn out to be very light, in my case I found very fine sand inside of legs, similar to the one used for the Jumbo Machinder and I have to say that is pretty stable Dangard.
Purtroppo questo modello non era provvisto di ali, ci sono gli innesti per inserirle ma alla fine non vennero mai prodotte.
Unfortunately this model was not equipped with wings, there are implants for them but in the end were never produced.
Gli adesivi hanno delle forme e dei colori particolari, solo quelli del petto e del bacino ricordano l'originale Popy e comunque resta difficile trovarli con gli adesivi integri.
The stickers are of shapes and colours, only those parts of the chest and pelvis are reminiscent of the original and still remains difficult Popy find them with stickers intact.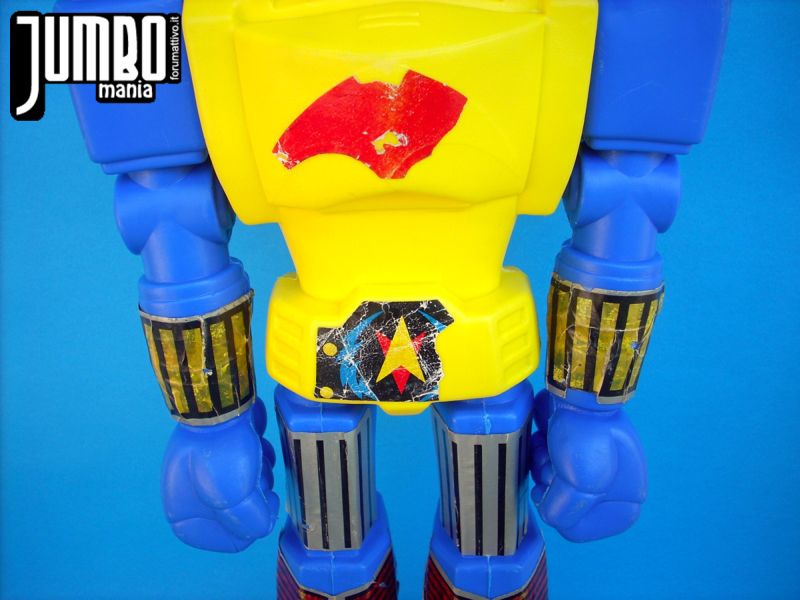 Questo Bootleg è stato prodotto in diversi paesi; Perù ,Argentina, Messico e una versione anche in Italia.
Il Dangard giallo è molto simile alla versione Italiana, stessa altezza 55 cm, ma il volto a differenza di quello Italiano non è colorato.
Questo Bootleg non era provvisto di box, veniva venduto in una semplice busta di plastica trasparente.
This Bootleg was produced in several countries; Peru, Argentina, Mexico and even in Italy.
The yellow Dangard is very similar to the Italian version, same height 55 cm, but the face unlike that Italian is not colored.
This Bootleg was not fitted with a box, was sold in a clear plastic bag..
Admin





Messaggi

: 28


Data d'iscrizione

: 19.01.13


Località

: TERNI-ITALY



---
Permessi di questa sezione del forum:
Non puoi
rispondere agli argomenti in questo forum